ARTH Courses | ARTH 209 Assignments
Parthenon Texts
Periclean Building Campaign

Thucydides, The Peloponesian War 1.10.2: For I suppose if Sparta were to become desolate, and the temples and the foundations of the public buildings were left, that as time went on there would be a strong disposition with posterity to refuse to accept her fame as a true exponent of her power. And yet they occupy two-fifths of Peloponnese and lead the whole, not to speak of their numerous allies without. Still, as the city is neither built in a compact form nor adorned with magnificent temples and public edifices, but composed of villages after the old fashion of Hellas, there would be an impression of inadequacy. Whereas, if Athens were to suffer the same misfortune, I suppose that any inference from the appearance presented to the eye would make her power to have been twice as great as it is.

Plutarch, Life of Pericles 12 & 13 [1] But that which brought most delightful adornment to Athens, and the greatest amazement to the rest of mankind; that which alone now testifies for Hellas that her ancient power and splendor, of which so much is told, was no idle fiction, — I mean his construction of sacred edifices, — this, more than all the public measures of Pericles, his enemies maligned and slandered. They cried out in the assemblies: "The people has lost its fair fame and is in ill repute because it has removed the public moneys of the Hellenes from Delos into its own keeping, [2] and that seemliest of all excuses which it had to urge against its accusers, to wit, that out of fear of the Barbarians it took the public funds from that sacred isle and was now guarding them in a stronghold, of this Pericles has robbed it. And surely Hellas is insulted with a dire insult and manifestly subjected to tyranny when she sees that, with her own enforced contributions for the war, we are gilding and bedizening our city, which, for all the world like a wanton woman, adds to her wardrobe precious stones and costly statues and temples worth their millions."
[3] For his part, Pericles would instruct the people that it owed no account of their moneys to the allies provided it carried on the war for them and kept off the Barbarians; "not a horse do they furnish," said he, "not a ship, not a hoplite, but money simply; and this belongs, not to those who give it, but to those who take it, if only they furnish that for which they take it in pay. [4] And it is but meet that the city, when once she is sufficiently equipped with all that is necessary for prosecuting the war, should apply her abundance to such works as, by their completion, will bring her everlasting glory, and while in process of completion will bring that abundance into actual service, in that all sorts of activity and diversified demands arise, which rouse every art and stir every hand, and bring, as it were, the whole city under pay, so that she not only adorns, but supports herself as well from her own resources."
[5] And it was true that his military expeditions supplied those who were in the full vigor of manhood with abundant resources from the common funds, and in his desire that the unwarlike throng of common laborers should neither have no share at all in the public receipts, nor yet get fees for laziness and idleness, he boldly suggested to the people projects for great constructions, and designs for works which would call many arts into play and involve long periods of time, in order that the stay-at-homes, no whit less than the sailors and sentinels and soldiers, might have a pretext for getting a beneficial share of the public wealth.
[6] The materials to be used were stone, bronze, ivory, gold, ebony, and cypress-wood; the arts which should elaborate and work up these materials were those of carpenter, moulder, bronze-smith, stone-cutter, dyer, worker in gold and ivory, painter, embroiderer, embosser, to say nothing of the forwarders and furnishers of the material, such as factors, sailors and pilots by sea, [7] and, by land, wagon-makers, trainers of yoked beasts, and drivers. There were also rope-makers, weavers, leather-workers, road-builders, and miners. And since each particular art, like a general with the army under his separate command, kept its own throng of unskilled and untrained laborers in compact array, to be as instrument unto player and as body unto soul in subordinate service, it came to pass that for every age, almost, and every capacity the city's great abundance was distributed and scattered abroad by such demands.
[1] So then the works arose, no less towering in their grandeur than inimitable in the grace of their outlines, since the workmen eagerly strove to surpass themselves in the beauty of their handicraft. And yet the most wonderful thing about them was the speed with which they rose. Each one of them, men thought, would require many successive generations to complete it, but all of them were fully completed in the heyday of a single administration.
[2] And yet they say that once on a time when Agatharchus the painter was boasting loudly of the speed and ease with which he made his figures, Zeuxis heard him, and said, "Mine take, and last, a long time." And it is true that deftness and speed in working do not impart to the work an abiding weight of influence nor an exactness of beauty; whereas the time which is put out to loan in laboriously creating, pays a large and generous interest in the preservation of the creation.
[3] For this reason are the works of Pericles all the more to be wondered at; they were created in a short time for all time. Each one of them, in its beauty, was even then and at once antique; but in the freshness of its vigor it is, even to the present day, recent and newly wrought. Such is the bloom of perpetual newness, as it were, upon these works of his, which makes them ever to look untouched by time, as though the unfaltering breath of an ageless spirit had been infused into them.
4] His general manager and general overseer was Pheidias, although the several works had great architects and artists besides. Of the Parthenon, for instance, with its cella of a hundred feet in length, Callicrates and Ictinus were the architects; it was Coroebus who began to build the sanctuary of the mysteries at Eleusis, and he planted the columns on the floor and yoked their capitals together with architraves; but on his death Metagenes, of the deme Xypete, carried up the frieze and the upper tier of columns;[5] while Xenocles, of the deme Cholargus, set on high the lantern over the shrine. 41 For the long wall, concerning which Socrates says* he himself heard Pericles introduce a measure, Callicrates was the contractor. Cratinus pokes fun at this work for its slow progress, and in these words: —
"Since ever so long now
In word has Pericles pushed the thing; in fact he does not budge it."*
7] The Propylaea of the acropolis were brought to completion in the space of five years, Mnesicles being their architect. A wonderful thing happened in the course of their building, which indicated that the goddess was not holding herself aloof, but was a helper both in the inception and in the completion of the work.
[8] One of its artificers, the most active and zealous of them all, lost his footing and fell from a great height, and lay in a sorry plight, despaired of by the physicians. Pericles was much cast down at this, but the goddess appeared to him in a dream and prescribed a course of treatment for him to use, so that he speedily and easily healed the man. It was in commemoration of this that he set up the bronze statue of Athena Hygieia on the acropolis near the altar of that goddess, which was there before, as they say.
[9] But it was Pheidias who produced the great golden image of the goddess, and he is duly inscribed on the tablet as the workman who made it. Everything, almost, was under his charge, and all the artists and artisans, as I have said, were under his superintendence, owing to his friendship with Pericles. This brought envy upon the one, and contumely on the other, to the effect that Pheidias made assignations for Pericles with free-born women who would come ostensibly to see the works of art.

Plutarch, Life of Pericles, 31: [2] But the worst charge of all, and yet the one which has the most vouchers, runs something like this. Pheidias the sculptor was contractor for the great statue, as I have said, and being admitted to the friendship of Pericles, and acquiring the greatest influence with him, made some enemies through the jealousy which he excited; others also made use of him to test the people and see what sort of a judge it would be in a case where Pericles was involved. These latter persuaded one Menon, an assistant of Pheidias, to take a suppliant's seat in the market-place and demand immunity from punishment in case he should bring information and accusation against Pheidias. [3] The people accepted the man's proposal, and formal prosecution of Pheidias was made in the assembly. Embezzlement, indeed, was not proven, for the gold of the statue, from the very start, had been so wrought upon and cast about it by Pheidias, at the wise suggestion of Pericles, that it could all be taken off and weighed,* and this is what Pericles actually ordered the accusers of Pheidias to do at this time. [4] But the reputation of his works nevertheless brought a burden of jealous hatred upon Pheidias, and especially the fact that when he wrought the battle of the Amazons on the shield of the goddess, he carved out a figure that suggested himself as a bald old man lifting on high a stone with both hands, and also inserted a very fine likeness of Pericles fighting with an Amazon. And the attitude of the hand, which holds out a spear in front of the face of Pericles, is cunningly contrived as it were with a desire to conceal the resemblance, which is, however, plain to be seen from either side. [5] Pheidias, accordingly, was led away to prison, and died there of sickness; but some say of poison which the enemies of Pericles provided, that they might bring calumny upon him. And to Menon the informer, on motion of Glycon, the people gave immunity from taxation, and enjoined upon the generals to make provision for the man's safety.

Statue of Athena Parthenos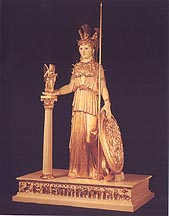 Modern Reconstruction of the Athena Parthenos
Varvakeion Athena (2nd century copy of the Athena Parthenos)
Pausanias, I, 24.5-7:As you enter the temple that they name the Parthenon, all the sculptures you see on what is called the pediment refer to the birth of Athena, those on the rear pediment represent the contest for the land between Athena and Poseidon. The statue itself is made of ivory and gold. On the middle of her helmet is placed a likeness of the Sphinx — the tale of the Sphinx I will give when I come to my description of Boeotia — and on either side of the helmet are griffins in relief. [6] These griffins, Aristeas of Proconnesus says in his poem, fight for the gold with the Arimaspi beyond the Issedones. The gold which the griffins guard, he says, comes out of the earth; the Arimaspi are men all born with one eye; griffins are beasts like lions, but with the beak and wings of an eagle. I will say no more about the griffins. [7] The statue of Athena is upright, with a tunic reaching to the feet, and on her breast the head of Medusa is worked in ivory. She holds a statue of Victory about four cubits high, and in the other hand a spear; at her feet lies a shield and near the spear is a serpent. This serpent would be Erichthonius*. On the pedestal is the birth of Pandora in relief. Hesiod and others have sung how this Pandora** was the first woman; before Pandora was born there was as yet no womankind.
*Erichthonius: said to be the son of Hephaestus and the Earth (i.e. aboriginal). He was the father of the legendary king of Athens, Erechtheus.
**Pandora: on Zeus's command Hephaestus fashions Pandora, the first woman, out of clay. Athena breathed life into her, and the other gods endowered her with every charm (whence her name, "all gifts"). She brought with her a box from which when opened there issued all the evils and distempers that have since afflicted the human race.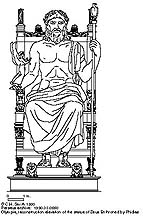 Reconstruction of the Zeus by Phidias for the Temple of Zeus at Olympia
Pliny, Natural History, 36, 18: That Pheidias is extremely famous among all peoples who appreciate the reputation of his Zeus at Olympia, nobody doubts, but in order that those who have not seen his works may know that he is justly praised, I will offer some small points of evidence to prove who great his inventiveness was. To do this, I shall neither use as proof the beauty of the Zeus at Olympia, nor the size of the Athena which he made at Athens (since she is 26 cubits hight and is make of ivory and gold), but rather I shall use the battle of the Amazons which is carved in a circular pattern on the convex side of her shield; likewise on the concave side of it he represented the struggle of the gods and giants, and on her sandals that of the Lapiths and Centaurs, so fully did every part offer the opportunity for the application of his art. On the base is carved the scene which they call "the birth of Pandora," with twenty gods present at the birth. The Victory is especially marvellous but experts admire the serpent and also the bronze sphinx which is placed below the point of her spear.
Funeral Orations
The funeral oration represents a particular genre of public speech made popular by Pericles. Honoring the dead of a recent conflict, the orator was called upon to put the deaths in the context of Athenian history, and to give significance to the sacrifice of the fallen warriors. Although written well after the completion of the Parthenon, the themes included can be traced back to fifth century ideas.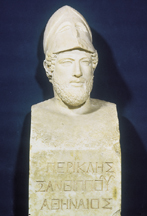 Pericles, "Funeral Oration" as recorded in Thucydides, Book 2:
[8] Meanwhile these were the first that had fallen, and Pericles, son of Xanthippus, was chosen to pronounce their eulogium. When the proper time arrived, he advanced from the sepulchre to an elevated platform in order to be heard by as many of the crowd as possible, and spoke as follows:
35: [1] 'Most of my predecessors in this place have commended him who made this speech part of the law, telling us that it is well that it should be delivered at the burial of those who fall in battle. For myself, I should have thought that the worth which had displayed itself in deeds, would be sufficiently rewarded by honors also shown by deeds; such as you now see in this funeral prepared at the people's cost. And I could have wished that the reputations of many brave men were not to be imperilled in the mouth of a single individual, to stand or fall according as he spoke well or ill.
[2] For it is hard to speak properly upon a subject where it is even difficult to convince your hearers that you are speaking the truth. On the one hand, the friend who is familiar with every fact of the story, may think that some point has not been set forth with that fulness which he wishes and knows it to deserve; on the other, he who is a stranger to the matter may be led by envy to suspect exaggeration if he hears anything above his own nature. For men can endure to hear others praised only so long as they can severally persuade themselves of their own ability to equal the actions recounted: when this point is passed, envy comes in and with it incredulity.
[3] However, since our ancestors have stamped this custom with their approval, it becomes my duty to obey the law and to try to satisfy your several wishes and opinions as best I may.
36: [1] I shall begin with our ancestors: it is both just and proper that they should have the honor of the first mention on an occasion like the present. They dwelt in the country without break in the succession from generation to generation, and handed it down free to the present time by their valor.
[2] And if our more remote ancestors deserve praise, much more do our own fathers, who added to their inheritance the empire which we now possess, and spared no pains to be able to leave their acquisitions to us of the present generation.
[3] Lastly, there are few parts of our dominions that have not been augmented by those of us here, who are still more or less in the vigor of life; while the mother country has been furnished by us with everything that can enable her to depend on her own resources whether for war or for peace.
[4] That part of our history which tells of the military achievements which gave us our several possessions, or of the ready valor with which either we or our fathers stemmed the tide of Hellenic or foreign aggression, is a theme too familiar to my hearers for me to dilate on, and I shall therefore pass it by. But what was the road by which we reached our position, what the form of government under which our greatness grew, what the national habits out of which it sprang; these are questions which I may try to solve before I proceed to my panegyric upon these men; since I think this to be a subject upon which on the present occasion a speaker may properly dwell, and to which the whole assemblage, whether citizens or foreigners, may listen with advantage.
37: [1] Our constitution does not copy the laws of neighboring states; we are rather a pattern to others than imitators ourselves. Its administration favors the many instead of the few; this is why it is called a democracy. If we look to the laws, they afford equal justice to all in their private differences; if to social standing, advancement in public life falls to reputation for capacity, class considerations not being allowed to interfere with merit; nor again does poverty bar the way, if a man is able to serve the state, he is not hindered by the obscurity of his condition.
[2] The freedom which we enjoy in our government extends also to our ordinary life. There, far from exercising a jealous surveillance over each other, we do not feel called upon to be angry with our neighbor for doing what he likes, or even to indulge in those injurious looks which cannot fail to be offensive, although they inflict no positive penalty.
[3] But all this ease in our private relations does not make us lawless as citizens. Against this fear is our chief safeguard, teaching us to obey the magistrates and the laws, particularly such as regard the protection of the injured, whether they are actually on the statute book, or belong to that code which, although unwritten, yet cannot be broken without acknowledged disgrace.
38: [1] Further, we provide plenty of means for the mind to refresh itself from business. We celebrate games and sacrifices all the year round, and the elegance of our private establishments forms a daily source of pleasure and helps to banish the spleen;
[2] while the magnitude of our city draws the produce of the world into our harbor, so that to the Athenian the fruits of over countries are as familiar a luxury as those of his own.
39: [1] If we turn to our military policy, there also we differ from antagonists. We throw open our city to the world, and never by alien acts exclude foreigners from any opportunity of learning or observing, although the eyes of an enemy may occasionally profit by our liberality; trusting less in system and policy than to the native spirit of our citizens; while in education, where our rivals from their very cradles by a painful discipline seek after manliness, at Athens we live exactly as we please, and yet are just as ready to encounter every legitimate danger.
[2] In proof of this it may be noticed that the Lacedaemonians do not invade our country alone, but bring with them all their confederates; while we Athenians advance unsupported into the territory of a neighbor, and fighting upon a foreign soil usually vanquish with ease men who are defending their homes.
[3] Our united force was never yet encountered by any enemy, because we have at once to attend to our marine and to despatch our citizens by land upon a hundred different services; so that, wherever they engage with some such fraction of our strength, a success against a detachment is magnified into a victory over the nation, and a defeat into a reverse suffered at the hands of our entire people.
[4] And yet if with habits not of labor but of ease, and courage not of art but of nature, we are still willing to encounter danger, we have the double advantage of escaping the experience of hardships in anticipation and of facing them in the hour of need as fearlessly as those who are never free from them.
Nor are these the only points in which our city is worthy of admiration.
40: 1] We cultivate refinement without extravagance and knowledge without effeminacy; wealth we employ more for use than for show, and place the real disgrace of poverty not in owning to the fact but in declining the struggle against it.
[2] Our public men have, besides politics, their private affairs to attend to, and our ordinary citizens, though occupied with the pursuits of industry, are still fair judges of public matters; for, unlike any other nation, regarding him who takes no part in these duties not as unambitious but as useless, we Athenians are able to judge at all events if we cannot originate, and instead of looking on discussion as a stumbling-block in the way of action, we think it an indispensable preliminary to any wise action at all.
[3] Again, in our enterprises we present the singular spectacle of daring and deliberation, each carried to its highest point, and both united in the same persons; although usually decision is the fruit of ignorance, hesitation of reflection. But the palm of courage will surely be adjudged most justly to those, who best know the difference between hardship and pleasure and yet are never tempted to shrink from danger.
[4] In generosity we are equally singular, acquiring our friends by conferring not by receiving favors. Yet, of course, the doer of the favor is the firmer friend of the two, in order by continued kindness to keep the recipient in his debt; while the debtor feels less keenly from the very consciousness that the return he makes will be a payment, not a free gift.
[5] And it is only the Athenians who, fearless of consequences, confer their benefits not from calculations of expediency, but in the confidence of liberality.
41: 1] In short, I say that as a city we are the school of Hellas; while I doubt if the world can produce a man, who where he has only himself to depend upon, is equal to so many emergencies, and graced by so happy a versatility as the Athenian.
[2] And that this is no mere boast thrown out for the occasion, but plain matter of fact, the power of the state acquired by these habits proves.
[3] For Athens alone of her contemporaries is found when tested to be greater than her reputation, and alone gives no occasion to her assailants to blush at the antagonist by whom they have been worsted, or to her subjects to question her title by merit to rule.
[4] Rather, the admiration of the present and succeeding ages will be ours, since we have not left our power without witness, but have shown it by mighty proofs; and far from needing a Homer for our panegyrist, or other of his craft whose verses might charm for the moment only for the impression which they gave to melt at the touch of fact, we have forced every sea and land to be the highway of our daring, and everywhere, whether for evil or for good, have left imperishable monuments behind us.
[5] Such is the Athens for which these men, in the assertion of their resolve not to lose her, nobly fought and died; and well may well every one of their survivors be ready to suffer in her cause.
42: [1] Indeed if I have dwelt at some length upon the character of our country, it has been to show that our stake in the struggle is not the same as theirs who have no such blessings to lose, and also that the panegyric of the men over whom I am now speaking might be by definite proofs established.
[2] That panegyric is now in a great measure complete; for the Athens that I have celebrated is only what the heroism of these and their like have made her, men whose fame, unlike at of most Hellenes, will be found to be only commensurate with their deserts. And if a test of worth be wanted, it is to be found in their closing scene, and this not only in the cases in which it set the final seal upon their merit, but also in those in which it gave the first intimation of their having any.
[3] For there is justice in the claim that steadfastness in his country's battles should be as a cloak to cover a man's other imperfections; since the good action has blotted out the bad, and his merit as a citizen more than outweighed his demerits as an individual.
[4] But none of these allowed either wealth with its prospect of future enjoyment to unnerve his spirit, or poverty with its hope of a day of freedom and riches to tempt him to shrink from danger. No, holding that vengeance upon their enemies was more to be desired than any personal blessings, and reckoning this to be the most glorious of hazards, they joyfully determined to accept the risk, to make sure of their vengeance and to let their wishes wait; and while committing to hope the uncertainty of final success, in the business before them they thought fit to act boldly and trust in themselves. Thus choosing to die resisting, rather than to live submitting, they fled only from dishonor, but met danger face to face, and after one brief moment, while at the summit of their fortune, escaped, not from their fear, but from their glory.
43:[1] So died these men as became Athenians. You, their survivors, must determine to have as unaltering a resolution in the field, though you may pray that it may have a happier issue. And not contented with ideas derived only from words of the advantages which are bound up with the defence of your country, though these would furnish a valuable text to a speaker even before an audience so alive to them as the present, you must yourselves realize the power of Athens, and feed your eyes upon her from day to day, till love of her fills your hearts; and then when all her greatness shall break upon you, you must reflect that it was by courage, sense of duty, and a keen feeling of honor in action that men were enabled to win all this, and that no personal failure in an enterprise could make them consent to deprive their country of their valor, but they laid it at her feet as the most glorious contribution that they could offer.
[2] For this offering of their lives made in common by them all they each of them individually received that renown which never grows old, and for a sepulchre, not so much that in which their bones have been deposited, but that noblest of shrines wherein their glory is laid up to be eternally remembered upon every occasion on which deed or story shall fall for its commemoration.
[3] For heroes have the whole earth for their tomb; and in lands far from their own, where the column with its epitaph declares it, there is enshrined in every breast a record unwritten with no tablet to preserve it, except that of the heart.
[4] These take as your model, and judging happiness to be the fruit of freedom and freedom of valor, never decline the dangers of war.
[5] For it is not the miserable that would most justly be unsparing of their lives; these have nothing to hope for: it is rather they to whom continued life may bring reverses as yet unknown, and to whom a fall, if it came, would be most tremendous in its consequences.
[6] And surely, to a man of spirit, the degradation of cowardice must be immeasurably more grievous than the unfelt death which strikes him in the midst of his strength and patriotism!
44:[1] Comfort, therefore, not condolence, is what I have to offer to the parents of the dead who may be here. Numberless are the chances to which, as they know, the life of man is subject; but fortunate indeed are they who draw for their lot a death so glorious as that which has caused your mourning, and to whom life has been so exactly measured as to terminate in the happiness in which it has been passed.
[2] Still I know that this is a hard saying, especially when those are in question of whom you will constantly be reminded by seeing in the homes of others blessings of which once you also boasted: for grief is felt not so much for the want of what we have never known, as for the loss of that to which we have been long accustomed.
[3] Yet you who are still of an age to beget children must bear up in the hope of having others in their stead; not only will they help you to forget those whom you have lost, but will be to the state at once a reinforcement and a security; for never can a fair or just policy be expected of the citizen who does not, like his fellows, bring to the decision the interests and apprehensions of a father.
[4] While those of you who have passed your prime must congratulate yourselves with the thought that the best part of your life was fortunate, and that the brief span that remains will be cheered by the fame of the departed. For it is only the love of honor that never grows old; and honor it is, not gain, as some would have it, that rejoices the heart of age and helplessness.
45:[1] Turning to the sons or brothers of the dead, I see an arduous struggle before you. When a man is gone, all are wont to praise him, and should your merit be ever so transcendent, you will still find it difficult not merely to overtake, but even to approach their renown. The living have envy to contend with, while those who are no longer in our path are honored with a goodwill into which rivalry does not enter.
[2] On the other hand if I must say anything on the subject of female excellence to those of you who will now be in widowhood, it will be all comprised in this brief exhortation. Great will be your glory in not falling short of your natural character; and greatest will be hers who is least talked of among the men whether for good or for bad.
46:[1] My task is now finished. I have performed it to the best of my ability, and in words, at least, the requirements of the law are now satisfied. If deeds be in question, those who are here interred have received part of their honors already, and I for the rest, their children will be brought up till manhood at the public expense: the state thus offers a valuable prize, as the garland of victory in this race of valor, for the reward both of those who have fallen and their survivors. And where the rewards for merit are greatest, there are found the best citizens.
[2] And now that you have brought to a close your lamentations for your relatives, you may depart.'
Demosthenes ((384-322.B.C.) has been recognized as one of the greatest of the Attic orators), Funeral Oration, 60, 4-8: [4] The nobility of birth of these men has been acknowledged from time immemorial by all mankind. For it is possible for them and for each one of their remote ancestors man by man to trace back their being, not only to a physical father, but also to this land of theirs as a whole, a common possession, of which they are acknowledged to be the indigenous children. For alone of all mankind they settled the very land from which they were born and handed it down to their descendants, so that justly one may assume that those who came as migrants into their cities and are denominated citizens of the same are comparable to adopted children; but these men are citizens of their native land by right of legitimate birth.
[5] In my view also the fact that the fruits of the earth by which men live were first manifest among us, even apart from their being a superlative boon to all men, constitutes an acknowledged proof that this land is the mother of our ancestors. For all things that bring forth young produce at the same time nutriment out of the organism itself for those that are born. This very thing has been done by this land.
[6] Such is the pride of birth that belongs to the ancestors of these men throughout the ages. As for Courage and the other elements of virtue, I shrink from rehearsing the whole story, being on my guard for fear an untimely length shall attach to my speech , but such facts as it is worth while even for those who are familiar with them to recall to mind and most profitable for the inexperienced to hear, events of great power to inspire and calling for no tedious length of speech, these I shall endeavor to rehearse in summary fashion.
[7] For the ancestors of this present generation, both their fathers and those who bore the names of these men in time past, by which they are recognized by those of our race, never at any time wronged any man, whether Greek or barbarian, but it was their pride, in addition to all their other good qualities, to be true gentlemen and supremely just, and in defending themselves they accomplished a long list of noble deeds.
[8] They so prevailed over the invading host of the Amazons as to expel them beyond the Phasis, and the host of Eumolpus and of many another foeman they drove not only out of their own land but also from the lands of all the other Greeks — invaders whom all those dwelling on our front to the westward neither withstood nor possessed the power to halt.

Lysias, Funeral Oration, 2, 17 : [17] Now in many ways it was natural to our ancestors, moved by a single resolve, to fight the battles of justice: for the very beginning of their life was just. They had not been collected, like most nations, from every quarter, and had not settled in a foreign land after driving out its people: they were born of the soil, and possessed in one and the same country their mother and their fatherland. [18] They were the first and the only people in that time to drive out the ruling classes of their state and to establish a democracy, believing the liberty of all to be the strongest bond of agreement; by sharing with each other the hopes born of their perils they had freedom of soul in, their civic life, [19] and used law for honoring the good and punishing the evil. For they deemed that it was the way of wild beasts to be held subject to one another by force, but the duty of men to delimit justice by law, to convince by reason, and to serve these two in act by submitting to the sovereignty of law and the instruction of reason.
[20] For indeed, being of noble stock and having minds as noble, the ancestors of those who lie here achieved many noble and admirable things; but ever memorable and mighty are the trophies that their descendants have everywhere left behind them owing to their valor. For they alone risked their all in defending the whole of Greece against many myriads of the barbarians.
[21] For the King of Asia, not content with the wealth that he had already, but hoping to enslave Europe as well, dispatched an army of five hundred thousand. These, supposing that, if they obtained the willing friendship of this city or overwhelmed its resistance, they would easily dominate the rest of the Greeks, landed at Marathon, thinking that we should be most destitute of allies if they made their venture at a moment when Greece was in dissension as to the best means of repelling the invaders.
22] Besides, from the former actions of our city they had conceived a particular opinion of her: they thought that if they attacked another city first, they would be at war with it and Athens as well, for she would be zealous in coming to succor her injured neighbors; but if they made their way here first, no Greeks elsewhere would dare attempt the deliverance of others, and for their sake incur the open hostility of the foreigners.
[23] These, then, were the motives of the foe. But our ancestors, without stopping to calculate the hazards of the war, but holding that a glorious death leaves behind it a deathless account of deeds well done, had no fear of the multitude of their adversaries, but rather had confidence in their own valor. And feeling ashamed that the barbarians were in their country, they did not wait till their allies should be informed and come to their support; rather than have to thank others for their salvation, they chose that the rest of the Greeks should have to thank them.
[24] With this one resolve in the minds of all, they marched to the encounter, though few against many: for death, in their opinion, was a thing for them to share with all men, but prowess with a few; and while they possessed their lives, because of mortality, as alien things, they would leave behind something of their own in the memory attached to their perils. And they deemed that a victory which they could not win alone would be as impossible with the aid of their allies. If vanquished, they would perish a little before the others; if victorious, they would liberate the others with themselves.
[25] They proved their worth as men, neither sparing their limbs nor cherishing their lives when valor called, and had more reverence for their city's laws than fear of their perils in face of the enemy; and so in their own land they set up on behalf of Greece a trophy of victory over the barbarians, who had invaded others' territory for money, [26] past the frontiers of their land; and so swiftly did they surmount their ordeal that by the same messengers information reached the other Greeks both of the barbarians' arrival here and of our ancestors' triumph. For indeed none of the other Greeks knew fear for the peril to come; they only heard the news and rejoiced over their own liberation. No wonder, then, that these deeds performed long ago should be as though they were new, and that even to this day the valor of that band should be envied by all mankind.
[27] Thereafter Xerxes, King of Asia, who had held Greece in contempt, but had been deceived in his hopes, who was dishonored by the event, galled by the disaster, and angered against its authors, and who was unused to ill-hap and unacquainted with true men, in ten years' time prepared for war and came with twelve hundred ships; and the land army that he brought was so immense in numbers that to enumerate even the nations that followed in his train would be a lengthy task.
Sophocles, Antigone:
Chorus
[332] Wonders are many, and none is more wonderful than man. [335] This power spans the sea, even when it surges white before the gales of the south-wind, and makes a path under swells that threaten to engulf him. Earth, too, the eldest of the gods, the immortal, the unwearied, [340] he wears away to his own ends, turning the soil with the offspring of horses as the plows weave to and fro year after year. [343] The light-hearted tribe of birds [345] and the clans of wild beasts and the sea-brood of the deep he snares in the meshes of his twisted nets, and he leads them captive, very-skilled man. He masters by his arts [350] the beast who dwells in the wilds and roams the hills. He tames the shaggy-maned horse, putting the yoke upon its neck, and tames the tireless mountain bull. [354] Speech and thought fast as the [355] wind and the moods that give order to a city he has taught himself, and how to flee the arrows of the inhospitable frost under clear skies and the arrows of the storming rain. [360] He has resource for everything. Lacking resource in nothing he strides towards what must come. From Death alone he shall procure no escape, but from baffling diseases he has devised flights. [365] Possessing resourceful skill, a subtlety beyond expectation he moves now to evil, now to good. When he honors the laws of the land and the justice of the gods to which he is bound by oath, [370] his city prospers. But banned from his city is he who, thanks to his rashness, couples with disgrace. Never may he share my home, [375] never think my thoughts, who does these things!