Art Home | ARTH Courses | ARTH 220
Excerpt from
Hélène Cixous, "The Laugh of Medusa"
1971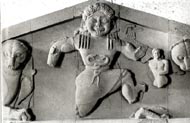 ...I write this as a woman, towards women. When I say 'woman,' I'm speaking of woman in her inevitable struggle against conventional man; and of a universal woman subject who must bring women to their senses and to their meaning in history. But first it must be said that in spite of the enormity of the repression that has kept them in the the "dark" --that dark which people have been trying to make them accept as their attribute-- there is, at this time, no general woman, no one typical woman. What they have in common I will say. But what strikes me is the infinite richness of their individual constitutions: you can't talk about a female sexuality, uniform, homogeneous, classifiable into codes --any more than you can talk about one unconscious resembling another. Women's imaginary is inexhaustible, like music, painting, writing: their stream of phantasms is incredible.
I have been amazed more than once by a description a woman gave me of a world all their own which she had been secretly haunting since early childhood. A world of searching, the elaboration of knowledge, on the basis of systematic experimentation with the bodily functions, a passionate and precise interrogation of her erotogeneity. This practice, extraordinarily rich and inventive, in particular as concerns masturbation, is prolonged or accompanied by a production of forms, a veritable aesthetic activity, each stage of rapture inscribing a resononant vision, a composition, something beautiful. Beauty will no longer be forbidden.
I wished that woman would write and proclaim this unique empire so that other women, other unacknowledged sovereigns, might exclaim: I, too, overflow; my desires have invented new desires, my body knows unheard-of songs. Time and again I, too, have felt so full of luminous torrents that I could burst --burst with forms much more beautiful than those which are put up in frames and sold for a stinking fortune. And I, too, said nothing, showed nothing; I didn't open my mouth, I didn't repaint my half of the world. I was ashamed. I was afraid, and I swallowed my shame and my fear. I said to myself: You are mad! What' the meaning of these waves, these floods, these outbursts? Where is the ebullient, infinite woman who, immersed as she was in her naiveté, kept in the dark about herself, led into self-disdain by the great arm of parental-conjugal phallocentrism, hasn't been ashamed of her strength? Who, surprised and horrified by the fantastic tumult of her drives (for she was made to believe that a well-adjusted normal woman has a...divine composure), hasn't actually accused herself of being a monster? Who, feeling a funny desire stirring inside her (to sing, to write, to dare to speak, in short, to bring out something new), hasn't thought she was sick? Well, her shameful sickness is that she resists death, that she makes trouble.
And why don't you write? Write! Writing is for you, you are for you; your body is yours, take it. I know why you haven't written. (And why I didn't write before the age of twenty-seven.) Because writing is at once too high, too great for you, it's reserved for the great --that is for 'great men'; and it's 'silly'. Besides, you've written a little, but in secret. And it wasn't good, because it was in secret, and because you punished yourself for writing, because you didn't go all the way, or because you wrote, irresistibly, as when we would masturbate in secret, not to go further, but to attenuate the tension a bit, just enough to take the edge off. And then as soon as we come, we go and make ourselves feel guilty --so as to be forgiven; or to forget, to bury it until the next time....
The Dark Continent is neither dark nor unexplorable. It is still unexplored only because we've been made to believe that it was too dark to be explorable. And because they want to make us believe that what interests us is the white continent, with its monuments to Lack. And we believed. They riveted us between two horrifying myths: between the Medusa and the abyss. That would be enough to see half the world laughing, except that it's still going on. For the phallogocentric sublation is with us, and it's militant, regenerating the old patterns, anchored in the dogma of castration. They haven't changed a thing: they've theorized their desire for reality! Let the priests tremble, we're going to show they our sexts!
Too bad for them, if they fall apart upon discovering that women aren't men, or that the mother doesn't have one. But isn't this fear convenient for them? Wouldn't the worst be, isn't the worst, in truth, that women aren't castrated, that they have only to stop listening to the Sirens (for the Sirens were men) for history to change its meaning? You only have to look at the Medusa straight on to see her. And she's not deadly. She's beautiful and laughing....
We've been turned away from our bodies, shamefully taught to ignore them, to strike them with that stupid sexual modesty; we've been made victims of the old fool's game: each one will love the other sex. I'll give you your body and you'll give me mine. But who are the men who give women the body that women blindly yield to them? Why so few texts? Because so few women have as yet won back their body. Women must write through their bodies, they must invent the impregnable language that will wreck partitions, classes and rhetorics, regulations and codes, they must submerge, cut through, get beyond the ultimate reverse-discourse, including the one that laughs at the very idea of pronouncing the word 'silence', the one that, aiming for the impossible, stops short before the word 'impossible' and writes it as 'the end.'
Such is the syntax of women that, sweeping away syntax, breaking that famous thread (just a tiny little thread, they say) which acts for men as a surrogate umbilical cord, assuring them --otherwise they couldn't come-- that the old lady is always right behind them, wathcing them make phallus, women will go right up to the impossible....