We have gathered together
In midsummer weather
And well before autumn or fall
To get up some verses –
Of which this the worse is
To honor just plain Uncle Paul.
But now we must scan some
For new Dr. Bransom
He has a degree
From Weber Varsity
They've built a museum
Where you can go see 'em
What put on his easel
The wolf and the weasel
The gnu and the tiger
Swimming the Niger
The horned rhinocerosis
Across the Kayderossuos
They're worth a king's ransom
Those paintings by Bransom
O! Doctor Bransom
Is very handsome!
And honorable too.
It is my considerate view
That he would never,
At least hardly ever,
Peer over a transom—
Would Doctor Bransom.
And neither would Paul
At all, at all.
            Malcolm and Judy McMartin
Poem written and read by Marion Sturgess:
There is a lake in upstate New York,
Canada is its name,
That through the years that have gone by
Is steeped in deeds of fame.
There was a Scout that brought it fame
And he was sure a loner –
Though legend makes him quite a guy –
His name was just Nick Stoner.
Now as the years have passed us by
Upon the near horizon,
A new name blazes cross the trail:
This name is plain Paul Bransom.
His many talents make his fame
Spread out across the nation.
His paintings of God's creatures all
Make him the Art Sensation.
Now his friends are gathered round
To wish him well, thank heavens—
The Hays, Overback, Sturgesses
And then, of course, the Evans.
So raise your cups on high tonight
And wish him many more
Of God's good things he knows so well—
He sure does know the score!
            John and Marion Sturgess
Poem written and read by Margy Van Voast:
There was a young drummer named Paul
Who painted an animal too tall
When he ran out of paper –
Just for a caper-
He painted its' head on the wall!
            Bill and Margie Van Voast
Poem by Eleanor Burts:
FOR THE ANIMAL MAN
In the painting of pictures
He is King of the Brush
In making of music
He equals the Thrush
In the hearts of his friends
He is cherished by all—
So
We gather together
In gay celebration
We feast and are very merry
In great jubilation
We say it –we sing it—
Every word – mean it –
HAPPY BIRTHDAY – HAPPY BIRTHDAY
HAPPY BIRTHDAY, Dear Paul
            Eleanor Burts
Poem written and read by Don Sawyer:
The old trees are to my liking.
Tender young saplings
Are brash in their newness
While they solicit my protectiveness.
It's the ancient tree,
The one that has survived
Displaying a grandeur
With trunk rugged and thick,
Limbs grown knarled,
Changed in direction,
Been broken off then heated
To go on again
Whose silence speaks to me.
Its pattern gives me hope,
Its being alive top the changing seasons
Carries me on its shoulders
To loftier thoughts and hopes
Often lost on younger trees.
            Don Sawyer
Poem by John Charleton: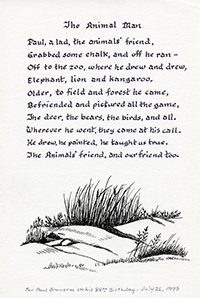 Poem by Malcolm McMartin:
In caves of Altamira
On cliffs in Kalihari
It's always been a mystery
Who drew way back in history
Those animals upon the wall.
But now we've solved the mystery
That's puzzled all of history
The artist was our Uncle Paul.
But if that makes him seem antique
He is –if I know of what I speak,
Though many birthdays him befall,
In outlook, plans and projects new
With fresh creations come to view—
He's far the youngest of us all!
            Malcolm and Judy McMartin
Conclude the birthday party with two poems by Helen Ireland Hays:
For P.B.
Cape Sable's nearly washed away
The Everglades are drying
Deep chaos rules on Biscayne Bay
The kittiwakes are crying.
Unmeasured floods of Bourbon flow,
Satiety's in reach –
And all this rout –because we know-
There's a lion at Palm Beach!
He flicks his brush, the colors fly,
He whirls the world around him
As it eagerly, repeatedly
Crowds nearer to surround him.
That gold coast and gold sun
Gain stature through his stay.
Now Royal palms, one after one,
Hang limp. He's gone away.
Returning to his old, damp nest
Where noisy friends disturb his rest
He finds that once again, here too,
Everyone likes to "h'ist a few"!
            Helen Ireland Hays
You're fall of charisma!
Maybe that's why
Friends call you "the apple"
Of your Mother's eye—
First drawings for patents
And rolling gear too,
Then "Bugs" for the Journal,
A studio at the Zoo –
The "Post" took four covers
When you chose to "free lance"
Also, gave you a story –
A well deserved chance.
1906 brought success
And a lovely wife.
Fortune smiles on you,
You enjoy, "the good life"!
You've hitched your horse
In front of your cart
You are now a distinguished
Doctor of Art.
You draw people to you
And tonight we all
Wish you a happy birthday—
Happy Birthday, Dear Paul!
            Helen Ireland Hays
At your heart you're a Hippie
So –like I say—
The Flower Children greet you
On your birthday.
Down with the Establishment!
Down with every square!
We believe you're with us,
We know you care—
For under a hemlock
To our great satisfaction,
You were seen painting
A Neo abstraction.
Remember how you felt
When you twanged that guitar?
Man, your beat is better
Than even Shan Kar –
Just loads of love
Right toward you hurtle
From your old friend, Doug
And Mikinak the turtle.