Princely Collection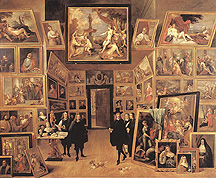 This painting dated 1647, now in the Prado collection in Madrid, was sent by the Archduke Leopold, who became the Governor of the Spanish Netherlands in 1646, to his cousin Philip IV, the king of Spain. Teniers served as the court painter for Leopold as such he was given responsibility to paint and buy paintings and to serve as the curator of the collection of the Archduke. As a court painter, Teniers had a personal relationship with the Archduke. This was manifested by the selection of the Archduke as the godfather to Teniers sixth child and the special gifts Teniers received from his patron. The position of court painter put Teniers within the category of the most elite artists of his period.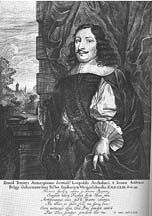 Teniers's portrait, engraved by Lucas Vorsterman after a painting by Peter Thys, is dated 1659. It clearly reflects his status as a court painter. His clothing and the format of the portrait clearly reflect his social status. The two gold chains and medallion with the profile portrait of the Archduke signify his membership in the Leopold's court. He also has a large key that hangs from his waist. This key was the symbol of his office as Ayuda de Cámara, or member of the chamber of the Duke.
The painting above is one of a comparatively large group of paintings showing the Archduke's collection. The Archduke is shown standing to the right of the doorway. He is distinguished by the broad-brimmed that he wears and the gold chain from which hangs the cross of the Teutonic Order, for which he was the Grand Master. The man at the left of the doorway can be identified as the Count of Fuensaldaña, a patron of Teniers who is shown standing beside him. In his dress and bearing Teniers is constructing himself as an aristocrat.
These paintings served to spread the fame of the Archduke's collection throughout the courts of Europe, where Leopold sent them as gifts to relatives and friends. The effect of such a collection was clearly to demonstrate the magnificence of the Archduke. This also served to spread the fame of Teniers. The remarkably precise reproductions of the major paintings in the Archduke's collection was certainly a tour de force demonstration of Teniers' ability to assimilate the styles of the great masters.
David Teniers the Younger, paintings of the Archduke Leopold's Gallery in Brussels

The Gallery of Archduke Leopold in Brussels, 1639.