Orientalizing: Sculpture
Daedalic Style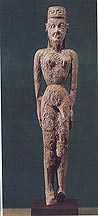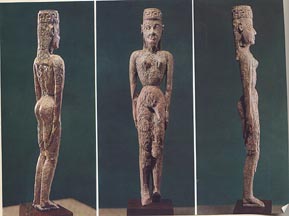 Dipylon Statuette , 8th c.

Bronze Statuette of Egyptian Goddess Mut from Heraion at Samos, c. 700 B.C..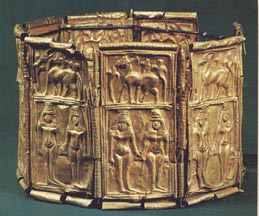 Syrian Crown, second half of 8th century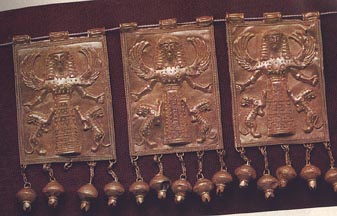 Gold work from Rhodes, second half of 7th century (Artemis?)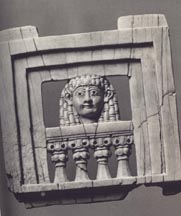 Woman at the Window, Ivory plaque from Nimrud, Phoenixianizing style, early 7th century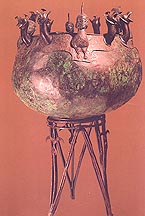 Griffin Cauldron, late 7th century

Griffin protome from Olympia, late 7th century.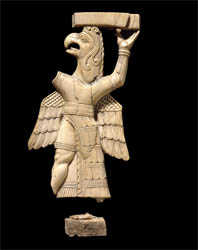 Ivory figure of a griffin-headed demon, Urartian (eastern Turkey), 8th- 7th century BCE (British Museum).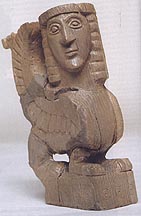 Ivory Sphinx from the Corinthian Sanctuary of Hera at Perachora, mid 7th c. The sphinx appears in seventh century literature including Hesiod in the story of Oedipus solving the riddle of the Theban sphinx.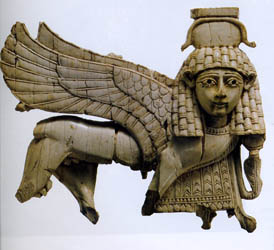 Neo-Assyrian Sphinx from Nimrud, 9th-8th century BCE.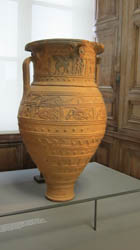 Pithos, in the Louvre, c. 675 BCE, Crete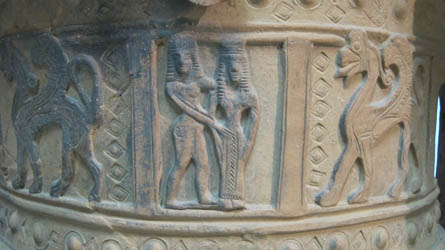 Detail of the Louvre Pithos.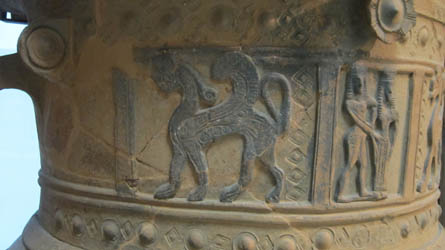 Griffin detail of the Louvre Pithos.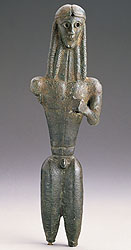 "Mantiklos Apollo"The dedication by Mantiklos is written on the thighs: "Mantiklos offers me as a tithe to Apollo of the silver bow; do you, Phoibos, give some pleasing favor in return." Early 7th c.

Nikandre Figure, Artemis?, from Delos: lifesize statue. third quarter of the seventh century
"Nikandre dedicated me to the far-shooting arrow-pourer [Artemis], daughter of Deinomenes the Naxian, excellent above all, sister of Deinomenes, now wife of Phraxos."

"Lady of Auxerre," third quarter of the seventh century (Kore, sing; korai, plural), c. 3' high, limestone.

Kore found in a cemetary on the island of Thera, probably late 7th century. 7 1/2'

Statuette from Delphi