Archaic Sculpture II
Kore (pl. Korai)

Nikandre Figure, Artemis?, from Delos: lifesize statue. third quarter of the seventh century
"Nikandre dedicated me to the far-shooting arrow-pourer [Artemis], daughter of Deinomenes the Naxian, excellent above all, sister of Deinomenes, now wife of Phraxos."

"Auxerre Goddess", c. 640-630.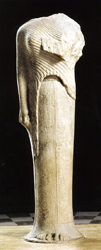 So-called "Hera at Samos," dedicated by Cheramyes, c. 570-560 BCE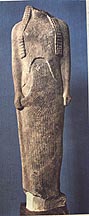 Kore from Samos, one of group of kore signed by Geneleos, c. 560-550.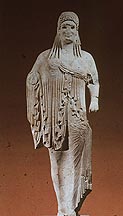 "Antenor Kore", dedicated by the potter Nearchos and signed by Antenor, c. 530-520.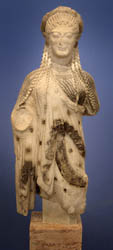 Kore from Acropolis- associated with a column bearing a signature of Archermos of Chios, c. 520-510.

"Peplos Kore", c. 530 B.C.