Art Home | ARTH Courses | ARTH 212 Assignments
Romanesque Architecture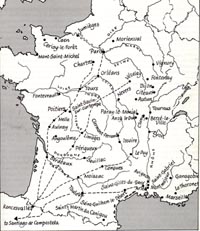 map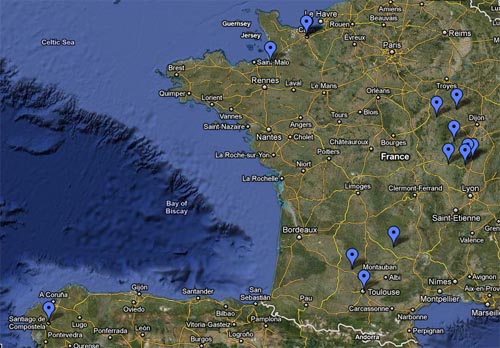 St. Sernin at Toulouse: construction began about 1060 and the nave was vaulted about 1119.

St. Foi at Conques: mostly built between 1100 and 1130.

Cluny III: Abbot Hugh (1049-1109) began the rebuilding of the Abbey Church at Cluny in 1088. Construction continued for the next forty-two years. The five aisled nave was completed in 1121 under Abbot Pons (1109-22).

Comparisons: One of the innovations at Cluny III was the introduction of pointed barrel vaults. A possible source is Islamic architecture. Islamic architecture influenced the architecture of sourthern Italy. The pointed arch apparently was used in the now lost church of St. Benedict at Montecassino, the mother church of the Benedictine order. The church of San Angelo in Formis uses pointed arches.

Paray-le-Monial: built between 1080 and 1130. Nave was constructed between 1120s and 1130s. Strongly influenced by Cluny III.

St. Lazare at Autun: built between 1120 and 1146.

Cistercian Abbey at Fontenay: founded in 1118 by St. Bernard, begun in 1130 by Bishop Everhard of Norwich, and consecrated in 1147.

Ste. Madeleine Vézelay: This Burgundian monastery was believed to possess the relics of Mary Magdalene. Consquently, this abbey became an important destination for pilgrims. The building was largely built between 1120 and 1132. The choir was done in the Early Gothic period, 1185-1190.

St. Étienne at Caen: or Abbaye aux Hommes, founded by William the Conqueror in 1064 and dedicated in 1077. Vaulted about 1130-35.