Art Home | ARTH Courses | ARTH 213 Assignments
Putting God into Perspective
Art presents one of the fundamental ways we confront concepts of God. A fundamental problem that art deals with is our relationship to God. The Middle Ages presented images of God as transcendent. See for example the 12th century tympanum from the Church of St. Lazare at Autun: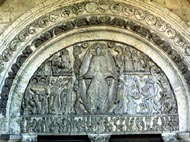 Italian artists of the 13th and 14th centuries as exemplified by the examples below (Baptistery Last Judgment, Giotto's Ognissanti Madonna, and Orcagna's Strozzi Altarpiece) dealt with this issue. Look at the different responses in these works. Pay careful attention to the conception of space evident in Orcagna's Strozzi Altarpiece.
With the invention of linear perspective in the 15th century, artists faced the dilemna of how to literally place God into perspective. Masaccio's Trinity is a pivotal monument. Here at the top of the fresco he places God the Father with the Holy Spirit and the Crucified Christ below. Analyze the perspective system of this painting and consider the relationship of God the Father to this system.
Masaccio, Trinity with Mary, John the Evangelist, and Two Donors, probably 1427 or 28. Sta. Maria Novella, Florence.
Important High Renaissance images like Leonardo's Last Supper and Raphael's Disputà also deal with the relationship of man to God. Compare Raphael's Disputà to his later Transfiguration. Note the significant shift in the relationship. I have also added to this topic Hans Holbein's Ambassadors. This painting done by a 16th century German artist active in London is beyond the normal perview of an Italian Renaissance art class, but it is an important statement in the problem of putting God into Perspective. Review the webpages linked to the thumbnail for this painting.
Andrea Orcagna, Strozzi Altarpiece, Strozzi Chapel, Sta. Maria Novella, Florence, 1354-57. [see page dedicated to the Black Death].

Strozzi Chapel

Leonardo da Vinci, Last Supper, 14595-97/98, Refectory of Sta Maria delle Grazie, Milan. For an analysis of the perspective and other views see the ARTH 110 slide list.

Raphael, Disputà (Disputation over the Sacrament), Stanza della Segnatura, 1510-11.

Hans Holbein, The Ambassadors, 1533. See my site dedicated to this painting. Pay particular attention to the pages dedicated to the Skull and Intellectual Vision.