Art Home | ARTH Courses | ARTH 213 Assignments | Stanza della Segnatura
School of Athens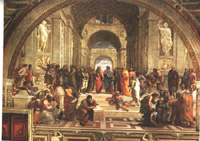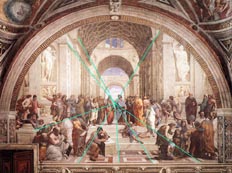 Plato and Aristotle

(Plato holds a copy of his Timeaus and Aristotle holds a copy of his Ethics) The head of Plato is close to the presumed Self Portrait of Leonardo da Vinci.

Heraclitus

This figure which is probably a later addition is understood to be a portrait of Michelangelo. It comes close to the Prophet figures from the Sistine Ceiling.

Euclid

The figure of Euclid is believed to be based on the likeness of the Renaissance architect Bramante. Accompanying the figures of Zoroaster (back is turned and holds a terrestrial globe) and Ptolemy (holds celestial globe) is presumed to be Raphael and either Perugino (Raphael's teacher) or Sodoma (who had started painting the ceiling of the room).