Art Web | Arth Home | Special Topics | Ambassadors Home | Top Shelf | Contact
LOWER SHELF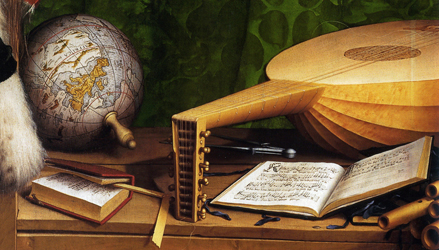 Terrestrial Globe.
The other objects on the lower shelf relate to three of the mathematical sciences of the Quadrivium:
Arithmetic:

Peter Apian, Eyn Newe unnd wohlgegründte underweysung aller Kauffmanns Rechnung (A new and reliable instruction book of calculation for merchants) (Ingolstadt: G. Apianum, 1527).
Geometry:
Square holding the Arithmetic Book open, and the compass in the background.
Music:

Lute with broken string.

Lutheran Hymnbook: Johannes Walther's Geistlich Gesangbuhli (Holy Hymnbook) 1st ed (Wittenberg, 1524) and a case of flutes.
Art Web | Arth Home | Special Topics | Ambassadors Home | Top Shelf | Contact