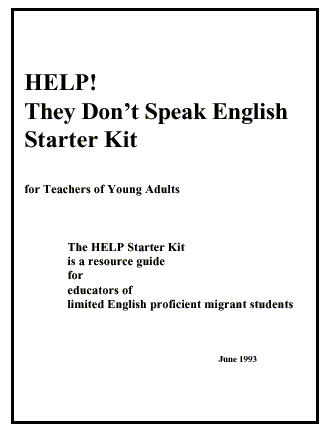 Introduction to the Help! Kit:
Greetings - You found an ESCORT web page, but we have created and released another web page as of June, 2001 that we will be updating more regularly. Please bookmark and use the following site. The new Help! Kit for Teachers of Secondary students will soon be available at the new site. Click on the Products tab to access the Help! Kits.
The first Help! They Don't Speak English Starter Kit was produced in 1989 by a task force of Virginia migrant educators who were getting an increasing number of requests from classroom teachers for information about and assistance with their limited English proficient (LEP) students. The Help! Kit has proved to be an excellent resource for teachers who are seeking ideas for recommended teaching strategies, lesson plans, and materials. It is important to emphasize that most of the strategies promoted here are recommended strategies for all students, not just LEP students.
The only way to get this Help! Kit for Teachers of Young Adults is to download the kit in *.pdf format. Click on any of the sections below to download them. If you are not familiar with the *.pdf format you can check it out and get a free copy of the Adobe Acrobat Reader by clicking on the Get A crobat Reader icon.

INTRODUCTION
SURVIVAL ENGLISH

Introduction to Survival English

First Essential Phrases, Courtesies

TEACHING TECHNIQUES

Whole Language in TESOL (TESOL stands for Teaching English to Spe akers of Other Languages) by Pat Rigg, in TESOL QUARTERLY, Vol. 25, No. 3, Autumn 1991

Talking Adult ESL Students into Writing: Building an Oral Fluency to Promote Literacy by Linda Blanton, August, 1990

Using Newspapers in the ESL Classroom by Carolyn Ebel Chandler, July, 1990

CULTURES
Mexican American and Haitian

DROP OUTS:

Ways to Retrieve and Help Them

"Migrant Students Who Leave School Early: Strategies for Retrieval" by Anne Salerno , BOCES Geneseo Migrant Center, May, 1991

Future Directions: Recommendations and Implications [for Migrant Secondary Programs] Migrant Education Secondary Assistance (MESA)

ADDITIONAL READINGS

"English Literacy Development: Approaches and Strategies that Work with Limited English Proficient Children and Adults" by Carmen Simich-Dudgeon, Summer, 1989

"The Freirean Approach to Adult Literacy Education" by David Spener, April 1990, revised 1992
State University of New York College at ONEONTA home
This page was last updated November 26, 2000. Please address any concerns about this page to Bob Thomas.