Art Web | Arth Home | Special Topics | Ambassadors Home | New Learning | Back | Contact

ARITHMETIC BOOK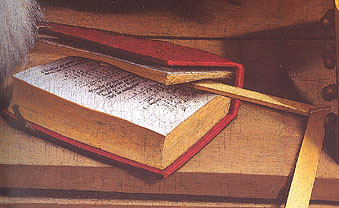 Peter Apian, Eyn newe unnd wohlgründte underweysung aller Kauffmanss Rechnung in dreyen büchern (Ingolstadt: G. Apianum, 1527)
Shown in the picture is Book III, Q. 8: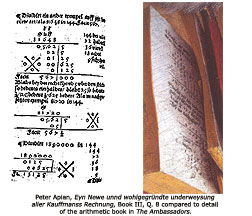 Apian's arithmetic book can be related to an expanding group of texts, written in the vernacular and using the new technology of the printing press, addressed to the practical needs of the merchant.* Like the other objects on the table, the emphasis is on the practice rather than the theory of the particular discipline [See New Learning]
The choice of a merchant's guide should also be related to the social change of the period marked by the expanding importance of the merchant bourgeoisie. It is significant to remember here that Georges de Selve was a descendent of a merchant family in the fifteenth century from Limousin. For Holbein he clearly depended on the patronage of this merchant class.
As noted by Foister, et. al., the page shown begins with the word Dividirt.* This choice of openings seems significant when it is related to other details in the painting that relate to political and religious division or disharmony. The writings of Georges de Selve reflect his concerns over political and religious divisions.
Art Web | Arth Home | Special Topics | Ambassadors Home | New Learning | Back | Contact