Art Web | Arth Home | Special Topics | Ambassadors Home | New Learning | Back | Contact

POLYHEDRAL SUNDIAL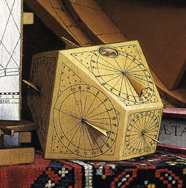 This instrument is very similar to the one shown Kratzer making in his 1528 portrait by Holbein: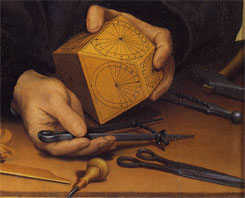 The times shown on the different surfaces do not agree: 9:30 on one face and 10:30 on the other two. It has also been observed that the gnomon has not been set for a northerly latitude but rather one corresponding to North Africa. These discrepancies can be connected to other inconsistencies within the painting: setting of the cylindrical sundial, and the lute with a broken string. These should be related to the theme of limitation of human science which is limited by the finite nature of humanity.
The representation of the polyhedral form should also be seen as a further manifestation of Holbein's mastery of the science of perspective as demonstrated by other details like the representation of the lute and tour de force of perspective, the anamorphic skull.
The Museum of the History of Science, Oxford has a polyhedral sundial in the shape of an octagon that has been attributed to Nicolas Kratzer: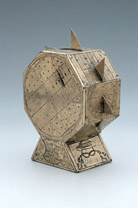 The sundial made about 1425 for Cardinal Wolsey. The four-sided base has Wolsey's arms, the arms of York Minster, and (on two sides) a cardinal's hat.

Art Web | Arth Home | Special Topics | Ambassadors Home | New Learning | Back | Contact