&nbsp
MUSC 170 Fundamentals of Percussion.

Fundamentals of Percussion provides group instruction on technique, rudiments, and reading, and is designed to prepare students to participate in further private instruction (270) and ensembles.
This class will focus on building a solid foundation so that students may then go forward and pursue any style of percussion they wish.
Materials covered will include: music notation, rebounding, technique, rudiments, stick control, quarter and eighth note reading, triplet and 16th note reading, ties and dotted notes, reading rolls, reading rudiments, various and mixed meters, coordination exercises, sight reading, etc.
Fundamentals of Percussion is a prerequisite for all 270 drum lessons.
The 170 Syllabus can be found HERE .

&nbsp

MUSC 270 Advanced Drumset meets in FA 202A.

Advanced Drumset lessons are available for students who have passed or tested out of MUSC 170-Fundamentals of Percussion.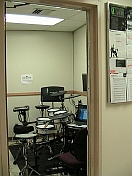 Each student will arrange to meet with their teacher once a week for 50 minutes of private instruction. In order to schedule your lesson time you must first be registered for the class and then fill out and return a scheduling sheet, which is available from your instructor or can be downloaded as a Pdf from HERE. These sheets must be returned to the secretary in the main music office, FA 115, as quickly as possible because NO lessons can be scheduled until ALL sheets are received.
If you have any questions or problems, please do not hesitate to CONTACT me.

Materials covered in lessons are based on our proficiency level system and can be found under "Lesson Resources" HERE, along with the syllabus and other information.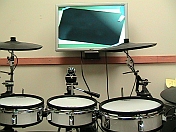 At the end of each semester, every student must perform a jury based on the material they are currently working on.
If a student has passed all the required proficiency levels then an individual curriculum will be created based on topics agreed upon by the student and instructor. A jury will be performed based on those topics.

If you are interested in more information, Other Offerings, downloads, resources, and other materials, please follow the links provided below.
&nbsp
| Lessons Home | ELS Home | Media | Exercises | Resources | Materials |
| Directory | Forum | Contact |